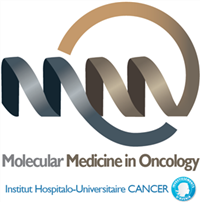 The "Molecular Medecine in Oncology" (MMO, IHU) programme is one of the four major 5-year framework programmes launched at Gustave Roussy in January 2013.

This is under the direction of Professor Eric Solary. It is central to the Institute's development strategy, the principal aim of which is to become the leading European centre for the development of innovative treatments.
The MMO programme is funded over 5 years mainly by the National Research Agency (8 million euros); by Natixis to set up the research teams; and by commercial partners, so that the total package of finance is 11.5 million euros.
One of the principal tasks of the MMO is to recruit research teams to sustain Gustave Roussy's innovative programmes.
Principal lines of research
Stem cells/iPS (induced pluripotent stem cells)
Immunotherapy of cancers
Personalised medicine (or molecular medicine)
Health Economics
Main themes
WP1: Long term survival and chronic disease
Establishment of iPS and stem cell techniques,
Immunotherapy of cancer, 
Establishment of a resource devoted to cell biology, 
Establishment of a bioinformatics resource.
WP2: Personalised Medicine
Development of new predictive biomarkers, 
Development of high throughput technology to investigate conditions which are difficult to treat,
Identification of epigenetic damage in cancers, under Professor E. Solary's direction.
WP3: Social and economic impact of molecular medicine and of chronic cancer 
The aim is to optimise the quality of life of patients with cancer while simultaneously reducing costs and inequalities:
To improve the coordinated care pathway to achieve quality and efficiency, 
To evaluate the medical and economic impact of personalised medicine.
Participating research teams
"Cell death and senescence" team 
Collective Invasion and epithelial morphogenesis team 
Role of mRNA transduction in antigen presentation team 
Oncogenesis and tumour progression in melanoma team 
Three new teams have recently been established to strengthen the MMO programme
Endocytosis, cytoskeleton and cell migration team 
Repair of double-strand breaks and genome integrity team 
Normal and malignant haemopoietic stem cells: genetic and epigenetic control team