Villejuif, Feb. 4, 2016
Service can be innovative too: launch of the programme infinitely you, the spirit of service at Gustave Roussy
Driving European scientific and technological innovation, accelerating access to high-precision treatments and latestgeneration care, Gustave Roussy also embodies a different vision of the hospital: a new model of excellence, focussed on personal service, directly benefiting the patient.
Patients who come to be treated at Gustave Roussy due to the very high quality of its care and the dynamism of its research must also be dealt with in a manner which enhances their daily experience and that of their loved ones.
With this in mind, on the occasion of World Cancer Day, the Institute, Europe's leading cancer centre, is launching the programme Infinitely You, the spirit of service at Gustave Roussy.
Announced in its Development Plan 2015-2020, presented as part of its Manifesto for Innovation, this ambitious programme is based around five strands defined on the basis of observations and experiences shared with patients and health-care professionals. And since progress can also be applied to service, Gustave Roussy plans to reinvent its relationship to the patient and the role of service within a treatment and research institute.
Infinitely You is structured around milestones along the patient pathway, helping patients move from receiving care to taking care, answering their needs, offering them greater autonomy and a more humanised and personal relationship.
This programme is built on five pillars:
"Informing", for a better-prepared pathway
"Welcoming", in a privileged and attentive manner
"Taking care", reconciling the patient with its body
"Providing service", making the stay more pleasant
"Evaluating" and jointly constructing, to ensure the most appropriate services are offered
Infinitely You will introduce, schedule and deploy, as far ahead as 2020, a complete range of services seeking to provide a more favourable environment for patients and those close to them. This will roll out over the next four years. It is to be financed in large part through public fundraising and skills sponsorship.
 Providing better information to patients
"Informing" is a concern already reflected in a new website which went live in May 2015. In the coming weeks, a personalised information portal for patients and professionals alike, designed in both web and mobile format, will also be launched. A rolling news bulletin for patients, In situ, is also soon to be shown in waiting and reception areas on large display screens.
Via web and mobile access, all current and future services involved in the programme can be consulted in the dedicated section of the Institute's website, also accessible on smartphone
Welcoming in a privileged manner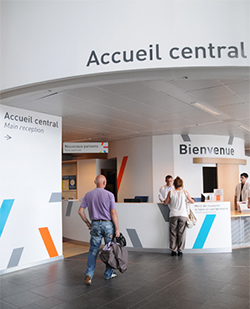 "Welcoming" firstly means redesigning the reception and waiting areas, in similar fashion to the architectural renovation recently completed on the reception area of the day hospital. It also means rethinking the waiting experience, enabling all Gustave Roussy patients to be aware of  their estimated waiting times, and to be offered calibrated services and activities. This will be the value proposition of a forthcoming application.
Patient and visitor orientation has already been improved thanks to directional signposting reworked in 2015 and being gradually rolled out across the entire Gustave Roussy campus. This signposting is soon to be enhanced with interactive orientation tools.
Reconciling the patient with their body
"Taking care", which already offers patients assistance, support and recovery through the programmes "Living better with cancer" and "Molitor Evasion", is to be complemented by cultural programmes and a Wellness Centre at the core of the Gustave Roussy campus.
Making the stay more pleasant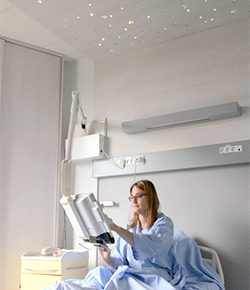 Offering personalised services to simplify the patient's stay and redesigning hospital rooms are among the objectives under "Providing service".
The architectural renewal of the department of paediatrics, with the "Parents' Hotel" at its heart, already provides a concrete example.
The creation of new hospital rooms to a hotel standard is underway and is to be rolled out over the next six years. The first 12-bed unit in the department of medical oncology was delivered at the end of 2015.
Evaluating for joint construction
The "Evaluating" role will be performed by means of direct consultations with patients and their families and friends, thanks to the creation of a patient observatory and a satisfaction survey concerning the quality of services provided.

> Read the press release in PDF