The largest international oncology congress, ASCO, will take place in Chicago, United States, from June 2nd to 6th, 2023. Gustave Roussy will once again be present with nearly fifty presentations. Decryption of these studies that bring new therapeutic strategies for the benefit of patients.​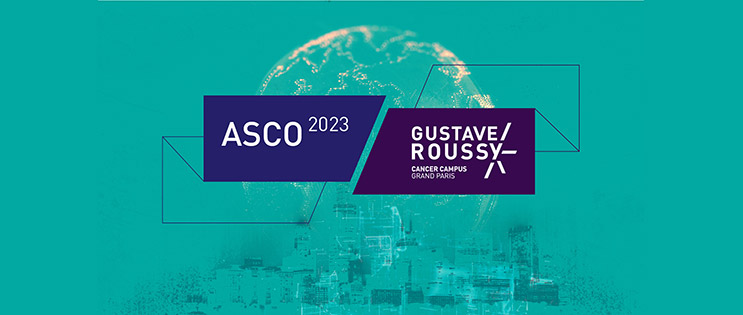 Nearly 40,000 oncologists from around the world are expected to attend the annual congress organized by the American Society of Clinical Oncology (ASCO). This highlight, which is also accessible in virtual format, showcases the latest innovations and clinical research findings in oncology.
More than 5,000 presentations are on the program, including a plenary session, 24 sessions of oral presentations, 14 Clinical Science Symposia sessions, 24 poster discussion sessions, 24 poster sessions, and a new addition to this 2023 edition: 3 Rapid Abstract Sessions.
Four physician-researchers from Gustave Roussy, Dr. Laurence Zitvogel, Dr. Barbara Pistilli, Dr. Ines Vaz-Luis, and Prof. Caroline Robert, are moderating sessions.
Flagship study in bladder and urinary tract cancer
Within a unique oral session, Dr. Yohann Loriot presents the results of the phase 3 THOR study conducted in patients with advanced or metastatic urothelial cancer with certain alterations in the fibroblast growth factor receptor (FGFR). Significant clinical benefits have been reported with erdafitinib, an FGFR inhibitor.
Five other promising studies presented orally by Gustave Roussy
Several experts from Gustave Roussy are among the authors of studies presented in oral sessions. This includes five studies that will be presented by a physician from Gustave Roussy:
Dr. Jacques Grill - BIOMEDE: The largest study in the world conducted on diffuse intrinsic pontine glioma, BIOMEDE changes clinical practice by introducing diagnostic biopsies as a standard and comparing three drugs assigned based on molecular profiling.
Prof. Karim Fizazi - TALAPRO 2: This phase 3 study conducted on patients with metastatic prostate cancer resistant to conventional treatments and with DNA repair gene alterations (e.g., BRCA) shows great clinical efficacy by combining a PARP inhibitor with second-generation hormone therapy.
Dr. Alberto Bossi - PEACE 1: New results presented for this international study indicate that combining radiotherapy with three drugs (standard hormone therapy, new-generation hormone therapy, and chemotherapy) could become a standard before the disease becomes resistant.
Prof. Benjamin Besse - CHRYSALIS-2: This phase 1-2 study conducted in patients with metastatic EGFR-mutated lung cancer identifies a predictive biomarker that could help choose the best first-line treatment for these patients.
Dr. Lisa Derosa - TOPOSCORE: This study unveiled during a Clinical Science Symposium presents a new score based on the composition of the microbiota to predict the effectiveness of immunotherapy response in cancer patients.
Five physician-researchers from Gustave Roussy awarded
The Young Investigation Award, granted by the ASCO Foundation "Conquer Cancer," is a prestigious research grant awarded to the most promising clinical oncology researchers. This year, it is awarded to:
Dr. Pietro Lapidari - oncologist and researcher in the breast pathology committee in senology. His research project focuses on the impact of anti-aromatase treatments (hormone therapy) on musculoskeletal toxicity. His analysis involves patients treated for localized breast cancer from the CANTO cohort.
This year, four Merit Awards have been granted to young experts from Gustave Roussy. These awards, given by ASCO, recognize young physician-researchers for their high-quality work and scientific merit:
Dr. Lisa Derosa: oncologist and researcher in the Tumor Immunology and Immunotherapy team, for the TOPOSCORE study.
Dr. Filippo Gustavo Dall'Olio: oncologist and researcher, for his work presented in a new session format at ASCO: the Rapid Abstract Sessions. The study focuses on circulating tumor DNA in patients with advanced lung cancer included in the UNICANCER SAFIR02-Lung/IFCT1301 study.
Dr. Arthur Geraud: oncologist and researcher in the breast pathology committee, for his poster presented at ASCO.
Dr. Martina Pagliuca: oncologist and researcher in the "Molecular Predictors and New Targets in Oncology" team, for the study she presents on a prediction model of "behavioral" long-term symptoms after breast cancer (CANTO cohort).