Cancer Campus® brings together all the talents with a view to innovation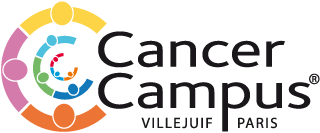 Cancer Campus® is an association which is developing a world-class group (biocluster) dedicated to innovation in oncology. It was established on the initiative of Gustave Roussy and that of a number of organisations including, among many others, the following: the Val-de-Marne General council, the Deposits and Consignments Fund, the town of Villejuif, the Val-de-Bièvre combined local authority, the Paris Chamber of Commerce and the Paris Public Hospitals (AP-HP). 
Its objective is to bring together at a single location around Gustave Roussy a top-level research and training group and innovative companies, as well as incorporating input from the public. The Cancer Campus® project lies at the heart of planning in the Medicen business cluster.
From planning into practice
Cancer Campus® profits from its exceptional position within the southern part of the Ile-de-France Region. It is surrounded by research and innovation activity and is very close to Paris and numerous other academic and hospital centres (AP-HP, Paris-Saclay University, CEA, ENS Cachan etc.). In 2011 Cancer Campus® established an offshoot, Villejuif Biopark, a nursery bed for companies, with the aim of welcoming new enterprises, most of which are specialised in biotechnology.
In 2011, the Val-de-Bièvre combined local authority and the town of Villejuif initiated a development project around Gustave Roussy: the ZAC Grand Parc Campus. With renewed public funding, this area of almost 80 ha will come to fruition over the next 15 years. 
The overall plan for the ZAC Grand Parc Campus is that it should be a centre for scientific and tertiary sector activity and for teaching and training in the health-care professions. It is also intended to house public sector establishments, shops and a variety of housing. The future Grand Paris metro line at Gustave Roussy will come into service in 2020 and line 14 connecting the Institute and Orly airport will start to function in 2027.