Professor Benjamin Besse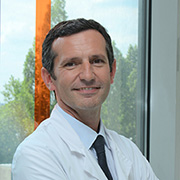 A medical oncologist specializing in the management of thoracic cancers, Prof. Benjamin Besse has been Director of Clinical Research at Gustave Roussy since September 2, 2021, after having headed the Institute's Department of Oncology Medicine for three years.
His main research areas are the application of molecular abnormalities to personalize treatment, circulating biomarkers, early drug development in thoracic tumors and thymic malignancies.
Benjamin Besse is author and co-author of more than 250 peer-reviewed articles. Over the past five years, he has been the principal investigator of more than 30 phase I, II and III clinical trials.
Professor Besse is the chairman of the EORTC lung group and coordinates the French network of thymic malignancies RYTHMIC. He is also a member of ASCO (American Society of Clinical Oncology), IASLC (International Association for the Study of Lung Cancer) and ESMO (European Society of Medical Oncology). He is a member of Clarivate's 2022 list of Highly Cited Researchers.