Professor Caroline Robert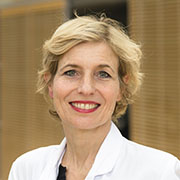 Caroline Robert, M.D., Ph.D., is the Head of the Dermatology Unit at Gustave Roussy and co-director of the Melanoma Research Unit at INSERM 981 Paris-Sud University. She trained at the Paris V University, France, and completed a research fellowship at Harvard, Brigham & Women's hospital in Cancer Immunology and Immunotherapy.
She chaired the Melanoma group of the European Organization for the Research and Treatment of Cancer (EORTC) from 2014 to 2017 and she is board member for the European Association of Onco-Dermatology (EADO), the European Society of Medical Oncology (ESMO), the European Association of Dermato-Venereology (EADV) the French society of Dermatology and Venereology (SFD), the American Society of Oncology (ASCO) and the American Association of Clinical Research (AACR).
Her main focuses of interest are clinical and translational research on Melanoma, immunotherapy and targeted therapy, as well as the study of the cutaneous adverse events of anticancer agents. Caroline Robert is national and international coordinator of many clinical trials of targeted therapy and immunotherapy for melanoma patients, from phase I to III. She has authored more than 325 articles in peer-reviewed scientific journals, including a number of publications on new treatments for metastatic melanoma
Her recent work has focused on identification of new biomarkers for immunotherapy and targeted therapies of patients with melanoma.