Villejuif, 19 october 2018
Gustave Roussy presentations at ESMO 2018
This year, the European Society for Medical Oncology (ESMO) will take place in Munich, Germany, from 19 to 23 October. It is Europe's biggest cancer congress and the number of delegates increases year-on-year. Experts from all over the world visit the congress to share the latest clinical innovations in oncology. Around 20,000 delegates from 130 countries are expected to attend ESMO 2018.
Gustave Roussy will undoubtedly be one of the main stakeholders at this congress and specialists will present results during oral presentations, poster discussions and special symposia/posters. 
Professor Fabrice André's oral presentation of the results of the SOLAR-1 breast cancer study during the plenary session on Saturday, 20 October, is one of the highlights of the congress.
Renowned for their specialist knowledge, Gustave Roussy's experts will also act as moderators in the verbal sessions, symposia or discussions. Professor Karim Fizazi will officiate during a plenary session oral presentation on prostate cancer on Sunday 21 October and Prof. Alexander Eggermont will be the speaker at a "special symposium" session focussing on therapeutic strategies for melanoma and outlining future plans for adjuvant immunotherapy treatments.
Find out Gustave Roussy presentations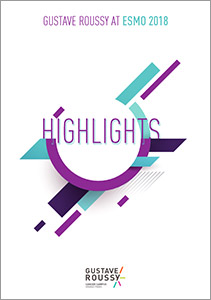 ▶ Read the press kit