Acclaimed by its peers the world over, Gustave Roussy is once again among the world's top 5 cancer institutes, in 4th place in the ranking of cancer hospitals published by the American magazine Newsweek for the year 2024. This position, after three of the most prestigious American centers, positions Gustave Roussy as a world leader in oncology, and reflects the Institute's international standing, both in terms of research integrated into care and technological innovations deployed in the service of patients living with cancer.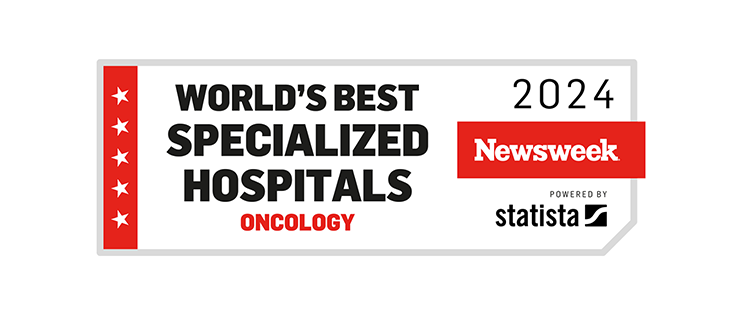 The "World's Best Specialized Hospital" ranking, published annually by Newsweek magazine and Statista, identifies and ranks the world's best hospitals in 12 disciplines, including oncology. For 2024, Gustave Roussy ranks 4th among the world's best cancer hospitals. The ranking is based on the results of an online survey of tens of thousands of leading healthcare experts, and draws on quality indicators as expressed by patients.
"First in France, first in Europe and fourth in the world, we are extremely proud that Gustave Roussy is the French champion of oncology on the international stage. Our recurrent presence in the Top 5 in 2024 is the fruit of the investment and efforts of all the Institute's professionals, mobilized to offer the very best in innovation to cure cancer in the 21st century", comments Pr Fabrice Barlesi, CEO of Gustave Roussy.
A pioneer and leader in surgery, radiotherapy, immunotherapy and precision medicine, recognized as a major player worldwide for its ability to deploy early trials, the Institute boasts the largest number of oncology researchers on the prestigious "highly cited researchers" list, and boasts many physician-researchers who regularly receive awards at international congresses or head up international learned societies; a result that reflects the excellence of the research and innovation work carried out at Gustave Roussy.
"This 4th place worldwide reflects our commitment to our patients. We are constantly striving to improve so that, in addition to treatment, we can offer them the best possible care pathways. This is Gustave Roussy's ambition, with massive investments to build around the Institute and the Paris-Saclay Cancer Cluster, the largest European campus dedicated to cancer, with the challenge of health independence in cancerology for France; notably with the construction of new buildings dedicated to personalized prevention and rapid cancer diagnosis, a new research center, but also through the ambitious renovation program for our hospitalization units," adds Prof. Fabrice Barlesi, Gustave Roussy's CEO.
► Consult the ranking and methodology