Professor Fabrice André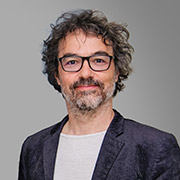 Director of Research at Gustave Roussy since February 2020, Prof. Fabrice André coordinates the Institute's medical-scientific research programs, in conjunction with the Medical Director.
A medical oncologist specializing in breast cancer and professor of medicine at the University of Paris-Saclay, he heads the Inserm U981 research unit "Predictive biomarkers and new molecular strategies in cancer therapy". His work involves various complementary areas of research in oncology: from basic research to clinical research, including bioinformatics and biotechnologies. He is the coordinator of three projects funded by the "Investissements d'avenir", notably the CANTO cohort, the RHU MyProbe and the national center for precision medicine PRISM.
Prof. Fabrice André is the author and co-author of 350 scientific publications in international journals and is listed in the Web of Science Group's Highly cited researchers list. He is ranked among the 25 most influential personalities in the field of precision medicine by the think tank BIS Research. He has received the American Society of Clinical Oncology (ASCO) Young Investigator and Career Development Award. He is editor-in-chief of the prestigious international journal Annals of Oncology.
In 2021, Fabrice André received the Outstanding Investigator Award for Breast Cancer Research from the SABCS and the American Association for Cancer Research (AACR) for his significant contribution to translational and clinical breast cancer research. Elected to the ESMO Presidency for 2025-2026, he will assume his position on the Executive Committee on January 1, 2023.