Professeur Fabrice André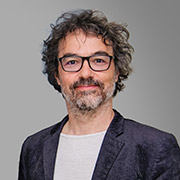 Directeur de la recherche de Gustave Roussy depuis février 2020, le Pr Fabrice André coordonne les programmes de recherche médico-scientifiques de l'Institut, en lien avec le Directeur médical.
Oncologue médical spécialiste du cancer du sein et professeur de médecine à l'université Paris-Saclay, il dirige l'unité de recherche Inserm U981 "Biomarqueurs prédictifs et nouvelles stratégies moléculaires en thérapeutique anticancéreuse". Ses travaux mettent en œuvre différents axes complémentaires de la recherche en oncologie : de la recherche fondamentale à la recherche clinique, en passant par la bioinformatique et les biotechnologies. Il est coordonnateur de trois projets financés par les Investissements d'avenir, notamment la cohorte CANTO, le RHU MyProbe et le centre national de médecine de précision PRISM.
Le Pr Fabrice André est auteur et co-auteur de 350 publications scientifiques parues dans des revues internationales et figure dans la liste des chercheurs les plus cités au monde (Highly cited researchers list de Web of Science Group). Il est classé parmi les 25 personnalités les plus influentes dans le domaine de la médecine de précision par le think tank BIS Research. Il a été distingué par les prix Young Investigator et Career Development Award de l'American Society of Clinical Oncology (ASCO). Il est rédacteur en chef de la prestigieuse revue internationale Annals of Oncology.
En 2021, Fabrice André est lauréat du Outstanding Investigator Award for Breast Cancer Research décerné par le SABCS et l'American Association for Cancer Research (AACR) pour son importante contribution à la recherche translationnelle et clinique sur le cancer du sein. Elu à la présidence de l'ESMO pour 2025-2026, il prendra ses fonctions au sein du comité exécutif le 1er janvier 2023.