A valuable asset in oncology, photobiomodulation or low-energy laser/LED therapy is used for its analgesic, anti-inflammatory, and healing properties. An innovative, non-invasive, and painless technique that promotes tolerance to chemotherapy and radiotherapy treatments.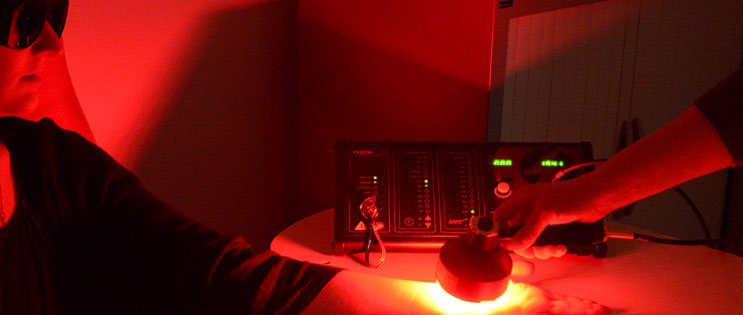 Gustave Roussy has just acquired its fourth photobiomodulation device. The technique involves exposing cells or tissues to specific wavelengths of light to stimulate their activity.
Numerous indications in oncological supportive care
In oncology, photobiomodulation is used to help heal damaged tissues, improve immune response, reduce inflammation, and prevent or treat certain side effects of treatments such as chemotherapy and radiotherapy. Recommended for the prevention of mucositis (inflammation of the oral mucosa) and radiodermatitis (skin burns induced by radiotherapy), photobiomodulation is also the subject of recent clinical studies to expand its indications (peripheral neuropathies induced by certain chemotherapies, skin fibrosis, lymphedema, dry mouth or trismus). The technique is currently booming thanks to recent discoveries about its cellular mechanisms of action and progress in the setting of new devices.
This non-invasive method with no identified side effects to date has yielded proven clinical results in indications that have not benefited from any other therapeutic alternative.