Launched on March 31st in Villejuif, PortrAIt is a consortium resulting from the collaboration between Gustave Roussy and the start-up Owkin, incorporating key players in oncology. Its goal is to develop and deploy nationally around fifteen artificial intelligence tools in digital pathology to improve cancer management. This project aims to make France a global leader in personalized medicine based on artificial intelligence in the next five years.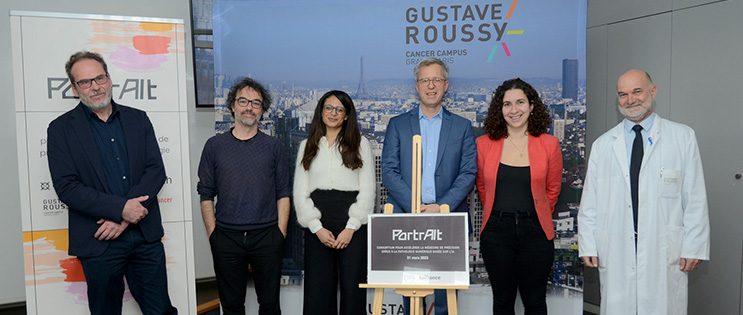 Financed by the France 2030 investment plan and implemented by the agency Bpifrance, PortrAIt is a new consortium bringing together Gustave Roussy and Owkin, the Leon Berard cancer center, the French digital imaging company Tribun Health, the French pathological diagnosis company Cypath, and the National Federation of French Cancer Centers (Unicancer).
Structuring and organizing innovative artificial intelligence solutions
This ambitious project is based on the creation of 15 artificial intelligence tools for digital pathology diagnosis and therapy. The formation of machine learning models (deep learning) should allow the analysis of data from digital pathology slides (digitized images of patient tissue samples) for the development of more effective and accessible diagnostic tools, thus helping oncologists to personalize treatments at an earlier stage of the disease. PortrAIt will also accelerate the work of pathologists to detect the presence of certain biomarkers or predict patient outcomes.
All these digital tools will be brought together on an evolving and interoperable digital platform that offers a research and collaboration framework for PortrAIt partners to be tested and deployed in French cancer centers and laboratories
In 2019, a framework agreement for research partnership and long-term collaboration was signed between Gustave Roussy and Owkin. This led to the development of RelaspRisk BC, the first prognostic artificial intelligence solution based on digital pathology, which predicts the risk of relapse in patients with localized breast cancer to avoid unnecessary chemotherapy after surgery.