Professor Gustave Roussy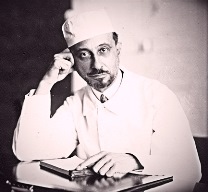 Gustave Roussy was born in 1874, in Switzerland near to Vevey.
After medical studies in Geneva and then Paris, he was awarded an internship in the Paris Hospitals, where he worked with Drs J. Darier and J.J. Dejerine. The latter was then filling Jean-Martin Charcot's former post at the Salpêtrière Hospital and he influenced Gustave Roussy's decision to embrace neurology. 
Roussy's thesis was devoted to the condition which is known today under the name of Dejerine-Roussy syndrome. It is characterised by a thalamic syndrome (the thalamus being located at the base of the brain) with severe pain and transient motor deficits.
He was to write, "It is through neurology that I came to pathological anatomy." 
This curiosity propelled him to join F. Franck who occupied the chair in normal and abnormal physiology at the Collège de France.
Associate professor in pathological anatomy
Gustave Roussy took French citizenship in 1907. He worked as a demonstrator while learning the techniques of pathological anatomy. 
At the age of 34 he became an associate professor in pathological anatomy. His research was devoted to the pituitary gland, acromegaly, myxoedema and the parathyroids which testified to his long-term commitment to clinical anatomy. This did not cease during the 1914-1918 war which he spent in the army of Lorraine.    
In 1914, he and J. L'Hermitte published a treatise on "pathological anatomical techniques in the nervous system, macroscopic and histological anatomy ".
He then became a clinical neurologist on the Villejuif heights at the Paul-Brousse Hospital. Situated just outside central Paris, Villejuif was then a shanty town where the poor, the marginal and immigrants were crowded together. It was there that Gustave Roussy saw cancer at its most heartrending.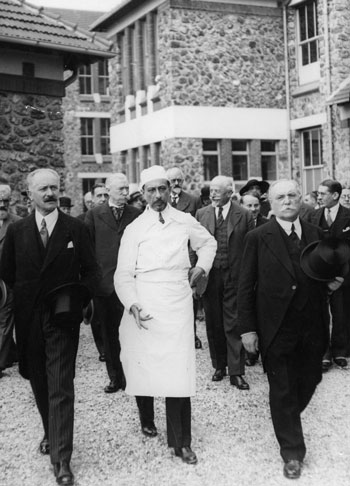 The first cancer centre
In 1925, Gustave Roussy established "the first cancer centre in the Paris suburbs" at the Paul-Brousse Hospital. He wanted this centre to be more than a place for triage, diagnosis and care of tumours.
He obtained funding from the Seine Conseil Général for construction of independent buildings and the establishment of a hierarchical and autonomous administrative structure which sheltered the centre from any attempts by neighbouring institutions to annex it.  
As a pathologist accustomed to approach diseases through their causation, Gustave Roussy conceived of the centre as also being a home for exploration and research. With this approach he set up a laboratory of experimental oncology and entrusted its direction to Charles Oberling.
In 1933 together with R. Leroux and C. Oberling, his associate since 1926, he published one of the rare textbooks on pathological anatomy in the French language.
The same year he was elected Dean of the Faculty of Medicine and in 1937 was appointed by the minister to the rectorship of the Paris Academy.
From the Cancer Institute to the Gustave-Roussy Institute
In 1939, he became a member of the Academy of Sciences. He published a volume on cancer for students and practitioners, in which he appealed for cancer to be treated as an ordinary condition which could be helped by advances in early diagnosis and a combined scientific approach.     
He was deprived of his post as Rector by the Vichy government in 1940, but this was restored in 1944 after the Liberation.   
At that time, surgical excision (tumour ablation) and ionising radiation were the only available treatments. The biological effects of radiation and the criteria defining tumour radiosensitivity were still poorly understood. Gustave Roussy enlisted to work closely with him Simone Laborde, wife of Albert Laborde, who had worked with Pierre and Marie Curie.
In 1946, René Huguenin took over as the director of the Cancer Institute and from that time Gustave Roussy devoted himself to his rectoral functions. 
In early 1947, he was appointed to the Council of Ministers. A few months later he was accused by the Finance Ministry of "illicit transfer of money between France and Switzerland". He was forced to resign from his posts as Rector and Minister.
Stoked by political enmity, a humiliating press campaign developed. Gustave Roussy was unable to tolerate this and attempted to poison himself.  
Supported by those close to him and his students, he fought to clear himself of the allegations. He wrote, "I gave all of my strength to France, the country of my ancestors, to which I returned". His good faith was recognised and the case against him was dismissed in May 1948. He was officially cleared two years later.
Despite this legal decision – delayed as it was - Gustave Roussy remained wounded and he committed suicide on 30th September 1948. 
The Cancer Institute took the name of its founder and became the Institut Gustave-Roussy in 1950.