Prof. Alexander Eggermont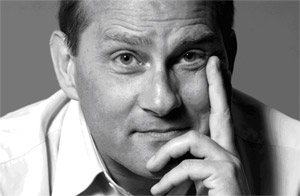 Professor of Oncological Surgery
General Director of Gustave Roussy from 2010 to 2019
Professor Alexander Eggermont has been Professor of Oncology with the status of «Classe Exceptionelle» in the Paris-Sud University since 2012 and Professor of Oncological Surgery at the Erasmus University of Rotterdam (Holland) since 2003. He also holds a Chair in the international research network on cancer at the Erasmus University of Rotterdam and since 2001 he has filled the Joseph Maisin Honorary Chair of Oncological Surgery at the Louvain Catholic University (Belgium). From 2000 to 2011 he was Head of the Oncological Surgery Department of the Daniel den Hoed University Cancer Centre in Rotterdam.    
During his career, he chaired the EORTC (European Organization for Research and Treatment of Cancer) from 2003 to 2006 and ECCO (European CanCer Organization) from 2008 to 2010. He is currently President of the European Academy of Cancer Sciences.
He is a surgeon and holds a doctorate in Tumour Immunology which he obtained in 1987 at the Erasmus University of Rotterdam. He specialised in research in immunotherapy and the treatment of melanomas and sarcomas in addition to fundamental research in pathogenesis and immunology of tumours. He has been awarded many prizes in recognition of his work in the treatment of cancer.
He was elevated to the status of Chevalier of the Légion d'Honneur by the french Ministry of Foreign Affairs and International Development on 1st January 2015.
Scientific awards:
Schoemaker Best Scientific Publication Award (Dutch Surgical Society) - 1987
Krementz Award for TNF program; Intern Soc of Reg Cancer Therapy - 1993
Japanese Society for Regional Treatment of Cancer (TNF-Program) - 1966
Japanese Society for Biotherapy of Cancer (Immunology Program) - 1997
Tilanus Medal: Society for Research in Mathematics, Physics, Medicine and Surgery- 2000
Professeur honorifique d'Oncologie «Chaire Joseph Maisin» à l'Université Catholique de Louvain, Belgique - 2001
Oswald van der Veken Award for Scientific Research of Tumors of the Locomoter system, Belgian National Foundation for Scientific Research - 2003
ESTRO Honorary Member - 2007
ESHO-BSD Award - 2010
ASCO Statemenship Award - 2010