Villejuif, 1st july 2022
Professor Fabrice André is President-elect of the European Society for Medical Oncology (ESMO)
Professor Fabrice André, Director of Research at Gustave Roussy, has been elected to the 2025-2026 presidency of the European Society for Medical Oncology (ESMO). He will assume his role within the executive committee on the 1st of January 2023.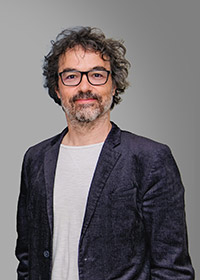 ESMO is the leading professional organisation in medical oncology with more than 25,000 members who work in oncology in more than 160 countries.
"As president of ESMO, I shall be depending on the development of new molecular and digital technologies which will respond to future challenges in oncology with the potential to improve the life of those living with cancer. I shall also embrace a more collaborative strategy based on the recruitment of talented individuals in order to answer more rapidly those questions in oncology that remain unresolved,"  declared Professor André.
As President-elect for 2025 and 2026, Professor André will be joining the executive committee of ESMO together with three newly elected directors on 1st January 2023. Professor Solange Peters is president for 2020-2022 and Professor Andrés Cervantes will take over for 2023-2024.
Professor André has been Gustave Roussy Director of Research since 2020. He is a medical oncologist specialising in breast cancer and is Professor of Medicine at Paris-Saclay University.
He coordinates three projects financed by "Investments for the Future"*: the CANTO cohort, RHU MyProbe and the National Centre of Precision Medicine's PRISM study. His oncological research ranges over a variety of approaches, in particular basic, clinical, bio-informatics, biotechnologies and artificial intelligence. 
During his career, he has published more than 350 scientific articles in international journals and has received many awards from ESMO and other distinguished professional organisations such as ASCO and the AACR. He appears in the world list of most highly cited researchers (Web of Science Group highly cited researchers list) and the think tank Big Research lists him in their group of the 25 most influential individuals in the field of precision medicine. 
He has been closely involved in ESMO activities for a number of years. He is editor-in-chief of Annals of Oncology (a journal with an Impact Factor, a measure of the readership of publications, of 51.769).
He is also the co-president of the Scientific Council of the ESMO annual congress, which will take place in Paris from the 9th to 13th September of this year.
* French state-funded sponsorship of important research