Join us on May 5th in Paris for a high-level exchange day dedicated to artificial intelligence in oncology, organized by two leaders in the fight against cancer, the Dana-Farber Cancer Institute (United States) and Gustave Roussy.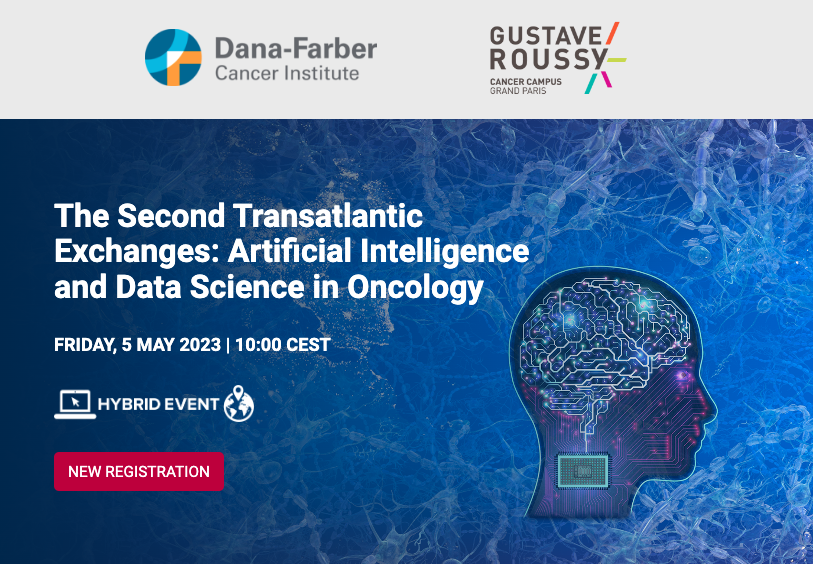 One year after the success of the first edition in 2022 on the theme of immuno-oncology, the Transatlantic Exchanges are back.
Ranked respectively 3rd and 4th best cancer hospitals in the world, Gustave Roussy and the Dana-Farber Cancer Institute are organizing the second edition of this scientific conference on Artificial Intelligence and Data Science in Oncology, supported by the Servier Institute and broadcast live on the Medscape platform. The objective is to share knowledge and advancements on a rapidly evolving subject.
High-level speakers
This one-day session is co-chaired by Professor Toni Choueiri, director of the Lank Center for Genitourinary Oncology at the Dana-Farber Institute, and Professor Karim Fizazi, medical oncologist and head of the international academic network at Gustave Roussy. The conference will be moderated by Professor Fabrice André, director of research at Gustave Roussy. Among the expected speakers are Eliezer Van Allen, physician, head of the division of population sciences, Professor Franziska Michor, professor of computational biology at the Dana-Farber, and Professor Paul Henry Cournède, director of research at CentraleSupélec, Paris-Saclay University.
The event, which will take place at the Boissière Conference Center in Paris, is open to all healthcare professionals interested in prior registration. Register to participate in-person on the day.
It will also be virtually broadcast on the Medscape platform. Register here.
This program is part of a collaboration agreement between the Dana-Farber Cancer Institute and Gustave Roussy, supported by the Servier Institute. It includes annual conferences alternating between Boston and Paris, as well as a scholarship program for young researchers from Gustave Roussy, who will be hosted in the research laboratories of the Dana-Farber.