As every year, the world's leading cancer experts meet in Chicago to talk about the latest advances in clinical oncology at the international meeting of the American Society of Clinical Oncology (ASCO). Naturally, Gustave Roussy is one of the best represented institutions at this conference.
Gustave Roussy specialists participated in a total of 80 presentations (19 oral, 19 poster-discussions and 42 posters) chosen by the ASCO scientific committee. Two doctors from the Institute were also discussants: Dr Yohann Loriot on genito-urinary cancers and Professor Benjamin Besse on lung cancers.
At this 55th annual meeting of the largest world oncology congress, Gustave Roussy demonstrated its leading role in developing treatments such as immunotherapy and targeted therapy which are changing practice and transforming patient management. Patient quality of life during and after the experience of cancer remains an important and constant concern and is benefiting from the development of new technologies in that field.
Gustave Roussy presentations at ASCO 2019: highlights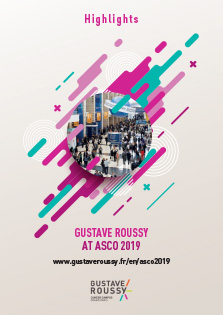 Live news from ASCO Meeting