The annual congress of the European Society of Medical Oncology (ESMO) will be held in Madrid from October 20 to 24, 2023. This key event in the world of oncology presents the main advances in clinical research. Gustave Roussy is one of the major players.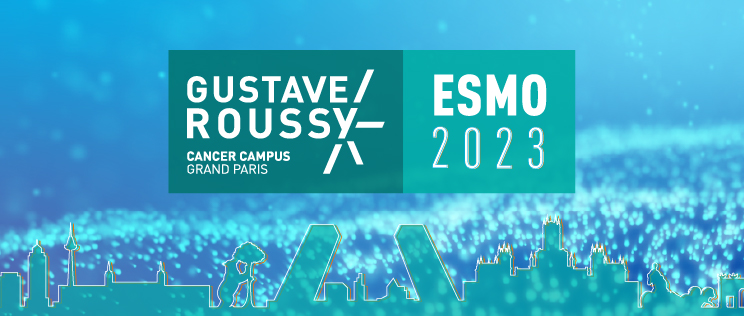 This year's ESMO congress brings together 31,000 international experts: doctors, researchers, industrialists, patient representatives...  
Gustave Roussy's expertise is reflected in the many research presentations and results. The Institute's physician-researchers present one study in a presidential session, four studies in proffered papers (oral sessions), 10 mini-orals and 27 posters. In all, they have authored or co-authored almost a hundred presentations.
Gustave Roussy presentations
Oral sessions are held by :
In the Presidential session, Dr. Julien Hadoux presents the results of a new selective targeted therapy, selpercatinib, which improves progression-free survival and tumor response rates in a rare subtype of thyroid cancer. This Phase III study is expected to change the 1st-line treatment of patients with medullary thyroid cancer presenting a RET mutation - Saturday, October 21.
Oral session :
Pr. Laurence Albiges presents the results of Belzutifan, a new therapeutic class that acts on the HIF pathway, compared with everolimus in clear cell kidney cancer. This is the first phase III study to evaluate this new therapeutic class in kidney cancer patients with no genetic predisposition - Saturday, October 21.
Dr. Patricia Pautier has evaluated the efficacy of a new chemotherapy-based combination of doxorubicin and trabectedin in improving long-term survival in patients with metastatic leiomyosarcoma. Until now, no new molecule, alone or in combination, has done better than this reference treatment - Sunday, October 22
Dr. Eric Baudin presents a new therapeutic approach based on a vaccine (EO2401) combined with immunotherapy (nivolumab), which has shown promising results in patients with adrenal gland cancer - Sunday, October 22
Pr. Pierre Blanchard presents the results of two meta-analyses aimed at clarifying the place of anti-EGFR drugs in the management of locally advanced cancers of the head and neck (ENT), as trials evaluating their value have been contradictory.
In addition, two of the Institute's doctors are co-authors of two studies presented at the presidential session on Monday October 23:
Dr. Barbara Pistilli, last author of the Tropion-Breast01 study presentation. This phase III study compared the efficacy of Datopotamab-Deruxtecan, a chemotherapy-conjugated antibody that targets TROP-2, versus standard chemotherapy therapy of the investigator's choice in over 700 heavily pre-treated hormone-dependent breast cancer patients.
Pr. Karim Fizazi, the last author to present the PSMAfore study, which investigated PSMA-Lutetium in patients with metastatic prostate cancer who had received no chemotherapy and had become resistant to second-generation hormone therapy.
They also take an active part in the congress through several major sessions and highlights. They chair or co-chair 11 oral sessions. Pr. Fabrice André co-chairs the presidential session on Monday, October 23, and one of the three scientific debriefings on Tuesday, October 24.
They comment on and put into perspective the results presented by other doctors during six sessions, including a presidential session on Saturday October 21 with Pr. Benjamin Besse, who moderates two presentations on lung cancer.