Docteur Camelia Billard-Sandu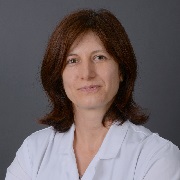 Dr Camelia Billard-Sandu est oncologue médical et chef du service d'hospitalisation du département d'Oncologie-Radiothérapie à Gustave Roussy. 
Elle est titulaire d'une bourse de recherche clinique ESO (European School of Oncology) dans le groupe GINECO-ARCAGY, ainsi que d'une bourse TRANSBIG (Trans Breast International Group) / ECCO (European CanCer Organisation) dans le laboratoire de recherche translationelle (Breast Cancer Unit) de Gustave Roussy. 
Ancien assistant spécialiste des Hôpitaux de Paris et de l'Institut Curie, Camelia Billard-Sandu est  titulaire d'un Diplôme Universitaire de Carcinologie Clinique, d'un Diplôme Universitaire Européenne de Recherche Clinique en Cancérologie, d'un Diplôme InterUniversitaire d'Onco-Hématologie du Sujet Agé et d'un Diplôme Universitaire de Pathologie Mammaire. 
Dr Camelia Billard-Sandu est membre du Groupe d'Oncologie Radiothérapie Tête et Cou (GORTEC), de l'European Society of Medical Oncology (ESMO)  et de l'European Society for Radiotherapy and Oncology (ESTRO). 
Impliquée dans le développement des soins de support dans les cancers de la tête et du cou, Dr Camelia Billard-Sandu fait partie de plusieurs groupes de travail sur la prise en charge des effets secondaires de la radio-chimiothérapie. Elle est responsable du Diplôme Universitaire de Photobiomodulation dans les soins de support oncologiques.