Suzette Delaloge, MD, MSc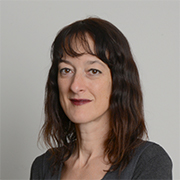 Suzette Delaloge, MD, MSc, Associate Professor of Medical Oncology, is a medical oncologist. She trained in France and Canada. She was Head of the Breast Cancer Department at Gustave Roussy, Paris, France from 2004 to 2021. She currently leads the cancer personalized prevention programme of Gustave Roussy: Interception.
Dr. Delaloge's major areas of expertise and development are precision risk-based cancer prevention, precision oncology and the organization of care in breast oncology. She has been investigator, principal investigator, national or international coordinator of more than 120 clinical trials over the last 20 years. She chairs the large H2020 EU-funded MyPeBS project and clinical trial, which aims at demonstrating the value of risk-based breast cancer screening.
Dr. Delaloge is the author of more than 220 international peer-reviewed publications and more than 700 presentations at international conferences (Google Scholar H-Index: 57). She is chairwoman of the National French Cooperative Breast Cancer Intergroup –Unicancer (UCBG). She is a board member of the European Society of Medical Oncology (ESMO) and of the French Society of Breast Care and Breast Pathology, and a member of the American Society of Clinical Oncology (ASCO).
Dr. Delaloge is breast specialty editor for European Journal of Cancer and genetics editor for The Breast, a member of the international advisory board of The Lancet Oncology, and is also a regular reviewer of major international journals in oncology and research. Dr. Delaloge is committed to numerous continuous teaching activities dedicated to doctors in training and medical students.