Double strand break repair and Genome Integrity group
This group belongs to the UMR 9019 Genome Integrity and Cancers.
Our team is investigating the molecular details of the repair mechanisms of the damages that our genetic material undergoes. These mechanisms are important in preventing the development of the mutations that cause cancer. At the same time, we explore the potential use of inhibitors aimed at these mechanisms to weaken tumour cells during cancer therapy by facilitating the cancerous cells elimination with combined therapies.
Our basic research allows us to observe DNA and repair proteins at high resolution and understand how they work in different situations during the cell cycle progression.
Current research
Study of the mitotic homologous recombination DNA intermediates' resolution pathways : Main nucleases and helicases' players (Yen1/Gen1, Mus81-Mms45/Eme1, Sgs1/BLM, Mph1/FANCM) and mechanisms of regulation by PTM modification.
Biochemical studies of the proteins involved in the homologous recombination reactions of strand invasion, joint molecule resolution and homology search.
Observation by electron microscopy and atomic force microscopy of the DNA intermediates and the protein-DNA complexes of the different HR reactions and steps from in vivo and in vitro samples.
Dissection of potential therapeutic targets in synthetic lethality approaches for cancer therapy.

TEM image of a replication fork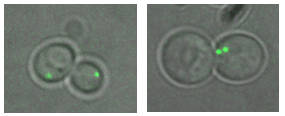 Example of chromosome segregation and mis-segregation of yeast cells carrying a fluorescent label in chromosome VII