Laboratoire de Recherche Translationnelle en Immunothérapie (LRTI)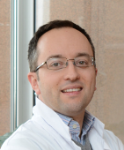 Head of unit: Dr Aurélien Marabelle.
This group belongs to the UMR 1015 "Tumour Immunology and anti-cancer immunotherapy".
One axis of our team is to work on patient's samples (blood, tumor) collected within clinical trials, in order to identify biomarkers of response & resistance to cancer immunotherapies.
The other axis of our team is to test cancer immunotherapies (either novel or old ones) on fresh tumor samples in order to better understand their mechanism of action.