Laboratory of Translational Research in Immunotherapy (LRTI)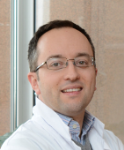 Headed by Prof. Aurélien Marabelle, the Translational Research Laboratory in Immunotherapy (LRTI) is affiliated with the INSERM 1015 Unit, the BIOTHERIS INSERM 1418 Clinical Investigation Center, the Paris-Saclay University Faculty of Medicine and the Department of Therapeutic Innovation and Early Trials of Gustave Roussy.
By studying the immunology of cancers and patients treated with immunotherapy, our team aims to develop more effective immunotherapy strategies while reducing their potential adverse effects.
Research topics
Over the past 10 years, the success of immunotherapies targeting immune checkpoints has demonstrated the relevance of targeting the immune system to treat cancers. Our work is a continuation of these results with the conviction that cancer is a dysimmune disease.
Our team is interested in elucidating the mechanisms of resistance, efficacy and toxicity of immunotherapies by working on tumor and blood samples taken from patients in clinical trials.
In addition, our laboratory is interested in studying the immunology of tumors in order to identify new therapeutic targets.
Our goal is to demonstrate that the treatment of cancer patients is more effective when it is based on the biology of the tumor rather than on its histology.